Radda in Chianti
Vacation accommodations and tourist information
on the sights of Radda in Chianti, Tuscany, Italy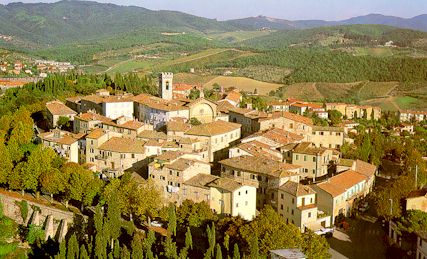 Radda in Chianti is a Tuscan wine village located between the valleys of the rivers Pesa and Arbia in central Italy, on a forested hillside surrounded by extensive vineyards. A small number of shops and restaurants in Radda in Chianti provide a supply centre for the wineries of the nearby parts of Chianti. The surrounding Chianti hills are dotted with castles, some in ruins, some still inhabited. There are numerous excellent agriturismi within easy reach of Radda in Chianti, providing vacation accommodation for tourists at highly competitive prices. There is no better way to enjoy the ambience of Tuscany, Italy, than to stay in a Bed and Breakfast, farmhouse apartment or villa on a working Tuscany vineyard. Radda in Chianti has limited bus service - a car is recommended.
31 maggio e 1 giugno 2014 per la XIX° edizione di Radda nel Bicchiere



31 May and 1 June 2014 for the 19th Radda nel Bichiere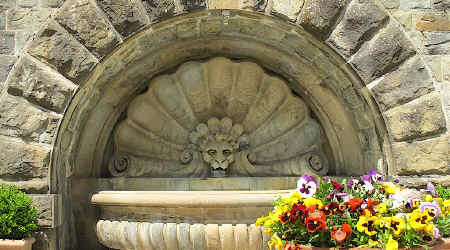 The famous fountain at Radda in Chianti
Bed and Breakfast accommodation in Tuscany, Italy
Vacation apartments near Lucarelli and Radda in Chianti

Agriturismo Podere Tegline offers four apartments for 2 to 4 persons (with additional beds for children under 12 at no extra cost) on a winery located in the Chianti castles country near Radda in Chianti and Lucarelli, halfway between Florence and Sienna. Our property is 50 hectares in area, guaranteeing tranquility, and is populated by a range of wild animals and birds. More about Podere Tegline Tuscany Holiday home.
Vacation apartment in Volpaia near Radda in Chianti

Apartment "Il Cassero" is a newly-restored vacation apartment for 5 persons located in an old tower keep in the tiny village of Volpaia in Tuscany. The accommodation consists of a kitchen, large living and dining room, plus two double bedrooms rooms and a single bedroom. Extremely peaceful and within a couple of minutes walk of three restaurants. More about Vacation apartment "Il Cassero" accommodation in Volpaia
| | |
| --- | --- |
| | In Lucarelli, Il Ristoro Lucarelli offers very comfortable Bed & Breakfast accommodation and meals in a recently restored house dating from 1890. Single, double and triple rooms. This is an ideal location for hikers and bicycle tourists. More about Il Ristoro Lucarelli Bed & Breakfast in Chianti. |
| | |
| --- | --- |
| | Podere Capiteto is located near Impruneta and enjoys fabulous views out over the Certosa del Galluzzo and Florence, and as far as Fiesole. Florence is an easy drive away and central Florence can be reached in 20 minutes by bus. We provide a large swimming pool and horses may be rented at the farm next door. This is the perfect place to stay to enjoy cool air in the summer while having easy access to the museums of Florence. Apartments for 2 (+1) persons. More about Agriturismo Podere Capiteto holiday apartments near Florence. |
Country Vacation Apartments with pool near Greve in Chianti

Le Terre di Melazzano offers farmhouse holidays with hospitality in four independent apartments for 2 to 5 persons, 1 km from the centre of Greve. Swimming pool and sun terrace. More about Le Terre di Melazzano Tuscany vacation apartments.
Country Vacation Apartments near Panzano and Greve

Agriturismo Biologico "Dondoli" consists of two spacious apartments for 2 to 5 persons in the quiet Chianti countryside on an organic farm - an ideal location for families with children. Each apartment has its own terrace for outdoor dining and there is a grill for use by the our guests. Organic breakfast provided upon request. More about Agriturismo Biologico Dondoli Chianti vacation apartments.
The municipal territory of Radda in Chianti covers 80.5 square km on the hills around the deep valleys of the rivers Pesa and Arbia. It was a feudal centre and then the residence of a mediaeval podesta from the 13 C onwards. It was confirmed in its present day boundaries with the Leopoldine reforms of 1774.

Radda was recorded for the first time with certainty in an edict of the Emperor Otto III from 1003 when its Court and castle were owned by the Florentine Abbey to whom they had been donated by the Marquis di Toscana, to whom it was confirmed by the Imperial authority. This was repeated several times in the following decade either by an act of succession by Otto or by a series of Papal endorsements. Radda became a feudal possession of the Guidi Counts in 1220, by command Federico II. Towards the middle of the 13 C (the precise date is not known), Florence affirmed its dominion here because of Radda's strategic importance. From 1176, Florence had jurisdiction over the greater part of southern Chianti previously belonging to Sienna.

Firenze put Radda at the head of one of the three "Thirds" in which the Chianti League was administratively divided, and starting from 1384 at the latest, it became capital of the Chianti League, as is shown by the oldest preserved statutes. In the middle of the 1300s, on the orders of the Florentine government, the wall of the castle were reinforced, and new fortifications were needed after the Aragonese invasion in 1478 during which the Radda castle was conquered and devastated. Other periods of warfare had to be lived through in the first half of the 1500s, until the fall of the Siennese republic. From then on Radda was principally an active agricultural centre.
More about the history of Radda.
Copyright © ammonet InfoTech 2000 - 2014. All rights reserved.